Made to Order
Whether you're a seasoned professional or an amateur slayer, the Demon Killer is an ideal choice for vanquishing nightmares in style. It is constructed with a denim outer body, satin sleeve and pocket lining, and a tall protective collar. Overall, the construction makes it a tough, lasting coat that keeps the body cool while you work up an acrobatic sweat. As a nod to the mobility required in the business of demon hunting, zipper cuffs and a sophisticated body design allow for a wide range of movement in the lower body, arms, and wrists. Get yours today, and dare demons to challenge you... if they can keep up.
Customizable Features
Fabric colors (primary and accent options)
Sizing (standard or tailor-fit)
Thread color
Hood style
Inside pockets
Cuff style
Front zipper closure
Zipper color
Customer Reviews
Write a Review
Ask a Question
02/03/2020
Binh
United States
The Most Comfortable Coat I've Ever Owned
I ordered this coat in an Ultraviolet color scheme that I liked from the Augment jacket. Purple accents on black with blue thread for a little cyberpunk feel. I also had a custom hood added as well. Its very warm and fits very well. The interior is lined with a comfortable fabric while the exterior feels very durable. I've gotten plenty of compliments while wearing this coat for the short while I've owned it. Ordering was very simple and I was quickly guided me through the process. Thankfully I knew my size from the previous Peregrine jacket that I had bought so we just needed to hammer out the custom details. All in all, I love this coat and haven't found any cons so far.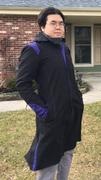 devilishly stylish
i bought this coat before it went to "custom only" status. i managed to catch one of the last premade coats available in the devil's fury color scheme. it lives up to it's inspiration on the style front, and even though i'm not generally fond of large amounts of red, this maroon tribute is subtle enough to suit me without sacrificing the bold attitude. this coat is the second warmest volante coat i own(behind the eagle), but it's comfortable enough to wear on casual occasions. mine came with zippered cuffs, hidden zip closure, and no hood. all of the fabric, hardware, and stitching are very high quality and i have no doubt they will hold up for a long time. fit is as expected and i always enjoy the high collar styles that volante has put together. if you have occasion to wear trench-style coats and want something more unique, this fits the bill and then some.
I purchased this jacket last
I purchased this jacket last October and wanted to wait a few months before I wrote my review. Pros: After 4 months of wearing it nearly every day it has held up fantastically. The quality of the material is great. Oddly enough the zippers stood out for me as they move very smoothly. The inner material is soft and comfortable against the skin. The pockets and sleeves are satin lined and feel great. The outer denim is very durable and looks great, especially if you are into denim. It looks nearly identically to the picture so you know what you are getting. Even the stitching is identical. When I needed to have the jacket exchange they were quick, courteous, and helpful which is a huge plus. Con's: The colors are much more muted then they appear in the pictures. The red is darker then it looks which was a little disappointing. This is really my main complaint as it does not set the black off as much as I had hoped. The jacket is cut like a suit jacket which means it constricts movement in the same fashion, especially across the shoulders. I sent my first one back as I just could not move comfortably in it. I ordered a medium the second time and while it does give me more movement across my shoulders and chest it does not hug my waist and sides as well. I am 6ft and thin for a guy and even I needed more shoulder space. Two of the pockets, in both jackets, were torn inside as well. I was initially going to wait until I had it cleaned before I wrote my review but decided against the wait. While trying to remove a little dust with a wash cloth I noticed a lot of dye coming off. To the point where i can see where the spot I cleaned it. The jacket did not stain or dye anything I touched when I purchased it but I am now afraid to have it cleaned because I am not sure how much the color will fade or if it will be splotchy. As an overall purchase I am quite happy with it and plan on shopping here again. However, given the price I feel that being picky is justified and there are just a few too many small things for me to give it 5 stars.
This is a truly amazing
This is a truly amazing coat. I ordered my Demon Killer in medium, and in the eclipse color scheme. At first the fit was a bit snug around the chest, but wearing for a few days has removed that issue entirely. Whether or not constant wear broke the jacket in, or I just got used to it - I'm not sure. But the main point being that my initial concerns are no longer an issue. The coat as pictured looks a little plain, but for me that perception is most likely based on seeing the Demon Killer in a vacuum or compared to other products on the webstore. Seeing it on yourself or on someone else is an entirely different matter. I have received a lot of complements and surprised looks from complete strangers, all of which attest to the visual impact of the coat. Trust me, it stands out. Finally I feel obligated to point out the interior quality of the coat is excellent. While it is not readily visible in any of the images, it is lined internally with a different material making it comfortable and durable. All in all, a solid investment. It is less flashy than other coats and jackets offered by the Volante Designs webstore, but still bold enough to make a statement.
----DISCLAIMER---- I attained my Mercenary
----DISCLAIMER---- I attained my Mercenary Demon Killer at no monetary cost, it was purchased through time worked at the DragonCon Booth. ----END DISCLAIMER---- The pictures here do not come close to doing this jacket justice. Its beauty comes out best