Men's cut [see the women's cut]
Not sure what size to get? Get a sizing consult here! 
Add a Star Trek: Discovery badge! Badge not included with jacket purchase.
Suit up for battle and prepare yourself to discover new dimensions in the Starfleet 2256 jacket. Heavy denim secured with sturdy topstitching enables this durable jacket to withstand conflicts with Klingons or tiffs with a Tardigrade. The signature angular style of the Starfleet uniforms returns with the stylish Discovery additions of long, geometric lines and shoulder line details. It's perfect for all your missions, whether it's a Black Alert aboard the Discovery or a routine landing party to the store. The sleek, blue color and the subtle details of stitching color and zipper allow you to flaunt your specialty under the radar. Pick gold for Command, silver for Sciences, copper for Operations, or stealthy black if you work in Section 31. See you on board!  
Features
Badge backing pocket to hold magnet makes putting on and taking off the badge quick and stealthy

Durable metal zipper matches the topstitching

Heavy denim with a small amount of stretch

Reinforced topstitching

Asymmetrical zipper

Snap tab collar can be worn closed or open

Magnetic external pocket closure for maximum futuristic tech

Internal pocket

Made in the USA

Dry clean
Colors
Command Gold

- Sailor with navy accents and gold thread, gold zipper

Sciences Silver

- Sailor with navy accents and silver thread, silver zipper

Operations Copper

- Sailor with navy accents and copper thread, copper zipper

Section 31

- Black with black accents and black thread, charcoal zipper
Customer Reviews
Write a Review
Ask a Question
Filter Reviews:
material
house
jacket
sleeves
shape
jackets
shoulders
size
Quality
Volante Design
Love the fit
I think it's an exceptional jacket. My only concern is the sleeves are a bit long. It wears great and feels great, and allows a surprising freedom of movement.
12/13/2019
Randee M.
United States
Going, boldly, where no other jacket has been before.
I am absolutely in love with this jacket. I've been wearing it around even in the strange heat of our summer. My only wish was that it more closely confirmed to the shape of my hips, but that's a 'me' problem, not a design issue. I will definitely be putting this jacket through its paces. And I'm about to mount my mirror universe badges on it. Live long and prosper.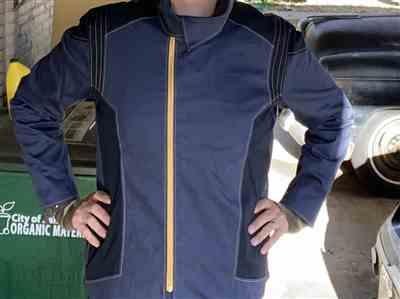 11/09/2019
Adam B.
United Kingdom
Perfect fit
Was a bit worried about an online size consultation but have to say it fits perfectly. Really good quality, excellent stitching and really looks the part. The quality is amazing
10/17/2019
Jesse M.
United States
Everything I Hoped
I had been eyeing the Discovery jacket since I saw an early ad before the pre-order had even begun, but just sort of assumed that it wouldn't fit me, wouldn't look as good on me as it did the models, and wouldn't actually be of high enough quality to justify the expense. So basically, I immediately fell in love but then started talking myself out of it. At Rose City Comic Con in Portland, OR, I had the chance to try one of the jackets on. I had been resisting the urge until a friend tried one on and immediately pre-ordered at Star Trek Las Vegas. Seeing it in person and zipping it up, I knew I had to find the money somehow. Even after I scraped it together, I was worried that when it arrived I'd feel like I had been silly to spend so much on a nerdy jacket, but I couldn't have been more wrong. From the moment I opened the box (which arrived much sooner than I expected it to - kudos on the fast shipping) I've found every excuse I can to wear it. Even just around the house when there's even the slightest chill or under a raincoat while I commute around town. I'm still impressed with the quality and I think I like it more every day. I also tend to have trouble finding things that look good on me because I'm a heavy, 6'2", and have a longer torso in relation to my body. Even when I've been thinner, shirts and jackets often aren't long enough to look right on me. Once I found the size that fit my shoulders, it was like it had been tailored for me. Can't recommend highly enough. If you're still on the fence, go find a con Volante Design will be at and bring enough cash that you won't have to take it off until you get home.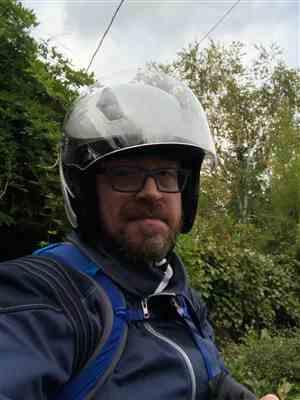 10/07/2019
Brett T.
United States
Great, cool-looking jacket; makes me look good :D
It's easy to get on and off; the collar takes a bit of practice, and has many variations to try out. I like the magnetic side pocket closures (quiet, unobtrusive). The sizing recommended was ideal and the longish sleeves are a nice touch - no weird shortness, it just adds to the look. The material has a slight (very slight) tendency to bunch or not lay flat because it's more formfitting and not hanging free, but you can straighten it occasionally. The trim cut is very stylish. I like the inside pocket as well and that there is a special spot to tuck the badge inside.