Available in Two Sizes
We are offering our masks for as little as humanly possible because we know they're a crucial protection for many.
Our masks are handmade in Massachusetts.
We use a combed cotton fabric which has a tight and dense weave while remaining soft to the touch.

The lining has an inner pocket to hold our pre-cut filters.

The elastic straps go over the top of the head and around the back of the neck, which is more comfortable to wear for long periods of time.

The cordlock toggle allows you to adjust the strap length and fit.

They're reusable and machine-washable, making them an eco-friendly alternative to disposable masks.
Disclaimer: These are not medical-grade masks. They are designed for wearing during your daily errands and other activities in conjunction with social distancing, hand-washing, and sanitation. We make no claims about the effectiveness of these masks. Use at your own risk and follow current CDC guidelines.
We do not accept returns or exchanges on masks. All sales are final.
Features
4.5 oz combed cotton outer
Soft cotton lining, assorted colors

Inner pocket to fit

 

our pre-cut filters
Pocket to add a

 

nose bar (sold separately)
Elasticized straps

Machine wash or hand wash with hot water, dry flat

Regular: 7.5" wide  x 6" tall at peak

Large: 8.5" wide x 7" tall at peak
Colors 
Steel - Grey with silver thread
Dark Side - Black with red thread
Not eligible for any discounts or promotions.
Customer Reviews
Write a Review
Ask a Question
Filter Reviews:
mask
work
pocket
fabric
some
gift
filter
ears
piece
surprise
07/07/2020
J K.
Canada
Amazing!!
The mask is an amazing alternative to the other masks. It definitely takes away the strain on the ears. Only downside is that it's pretty thick, so wearing it for long periods of time gets a little uncomfortable. But I think it'll be an awesome thing to wear in the colder seasons
06/15/2020
Jaden
United States
The Mask for Anyone, Anytime!
After paying $28 for both the Everyday Mask and the optional Comfort Straps, I was skeptical about the value of this item. However, when my order finally arrived I was needless to say, pleasantly surprised. Everything about this mask is convenient; it's breathable, produced with high-quality materials, easy to use, comfortable, machine washable (I use delicate settings), modular—given it's filtration pocket, replaceable elastic strap, as well as Comfort Strap compatibility; and it's downright fashionable to a badass degree! In short, I couldn't be happier!
Almost Perfect
This mask is the closest to perfect that I have found. Before finding this mask I had spent about $150 on different masks trying to find one that fit and was comfortable and none of them worked. This mask fits great — the adjustable elastic is a brilliant idea. The size options are also. After trying both sizes I chose the large (my husband is using the medium and it fits him fine); it's a little roomier, so it doesn't squish my nose, making it hard to breathe, but is still covers all the necessary areas tightly enough to be effective. To make it perfect I would change two things. I find attaching the nose bar to the filter to be totally ineffective—the bar ends up in the wrong area and while I find the sewn in bar on the nylon masks to work really well, eventually it will wear out and need to be changed, so it would be nice if the mask came with a pocket for the nose bar (I've tried a couple of masks with that feature and it works well) or even an opening to insert a wire. The second thing on my wish list for the perfect mask would be a way to open the filter pocket (maybe with a thin strip of velcro to one side, so that it opens and closes like a book, if that could be comfortably done). I find it hard to get the filter in place and be sure that is is positioned correctly, so I'm actually breathing through the filter. I'd also like to affix the filter with removeable fabric tape, to make sure it stays in place, but that is too hard to do without a way to open the filter pocket. I'd love to see a mask with those two added features (if I could sew, I'd try it myself), but even without those features, this mask is by far the best mask I've seen.
SW
05/18/2020
Sarah W.
United States
Great Mask
Really happy with this mask, the regular size is a perfect fit for me while the larger size fits my partner well. I really like that there is a pocket for a filter and I will definitely pick up some of the nose bars once more are available. My favorite feature though is how it fastens, so much more comfortable than the over the ears fir of most masks.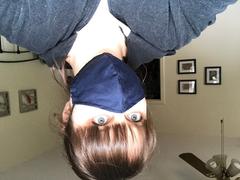 04/24/2020
Alexa
United States
Fantastic Mask!
Not only stylish and comfortable it is easy put on!