Unifit
Not sure what size to get? Get a sizing consult here!
Not one soul out of doors, the world is asleep;
And the Wraith on silent feet does creep.
On it lurks, stalking through the night
And its solitary council keeps 'til first light.
Reintroducing the Wraith! Inspired by the cold smell of snow to come and by tattered leaves blowing in a grey landscape, the Wraith will steal into your heart as soon as you try it on. This elegant design is the coziest that Volante Design has ever made. It is a custom made cotton sweatshirt fleece that wears beautifully and only gets softer with age. The dramatic collar and carefree folds look stunning combined with our Automata Vest or any other jacket of your choice. The kangaroo pocket is both spacious and unobtrusive. Both the sleeves, hood, and waistband have a raw edge that make this sweatshirt truly unique. Completely machine washable and pre-shrunk, the Wraith has quickly become a staple of our wardrobes. Get it for yours today.
We call this cut Unifit as opposed to "unisex" because the term unisex as is currently defined is "a shape that is designed to be suitable for both sexes" and suitable just doesn't cut it for us. The Wraith is available in 10 sizes that will cover the measurements of our Women's size 33 to our Men's size 51. This is made possible by the side panels of the Wraith being entirely of stretch cotton.
Features
Machine washable
Pre-shrunk
Kangaroo pocket
Distinctive raw edges
Paneled cowl hood
Durable jeans grade thread
Unifit sizing
Machine wash and dry 
Colors    
Devil's Fury - maroon with black accents and grey thread

Black Garnet - black with red accents and red thread
Fallen Angel - navy with black accents and royal thread
Victorian Eclipse - black with black accents and tan thread
Victorian Fog - charcoal with black accents and tan thread
Customer Reviews
Write a Review
Ask a Question
Filter Reviews:
wife
hoodie
sweatshirt
hood
sleeves
clothing
aesthetic
shrinkage
05/06/2020
David C.
United States
Great hoodie
Generally not a fan of pullover hoodies, but this one is great. Matches my huge collar aesthetic!
Perfect sweatshirt
It's my favorite sweatshirt. It is nice and roomy, making it very cozy, but because it's not quite a boxy cut, I don't feel like I'm swimming in it either. That makes it feel more stylish than your average sweatshirt. I bought a size 35 for my petite frame (114 lbs., 5'2"). The sleeves are rather long on me, but I prefer them than that way. I have not experienced any shrinkage when I wash it in cold water and tumble dry at low temps. I love it!
11/12/2019
AJ
United States
Excellent craftsmanship
After 4 years of admiring the clothing at the Volante booth, I was finally able to purchase a Wraith last month at NYCC and have worn it every day since. I love it so much that I just bought a second one "just in case," and they were able to shorten the sleeves for me (at an additional cost) for a better fit. I've never been a fan of pullover hoodies because of how they look and feel on me, and I like the option of having a zipper, but this is truly the best looking and most comfortable hoodie I've ever owned. The front pocket is large and doesn't puff out, but it's the pattern and colors of the unique stitching that makes this stand out. Yes, these are pricey and the cost of the sleeve shortening seemed a little steep to me, but it really was worth it. Considering that most of my clothing is cheap, mass produced, and doesn't fit right, I'm happy to support this amazing small clothing company from western Mass (where I'm originally from!) Now I just have to decide which color I want for my third Wraith..
10/24/2019
Mark B.
United States
Great look, but side panel fit loosens with wear
I love the cut and the fit — It's so comfortable and looks great! I keep getting compliments whenever I wear this hoodie. The first day you wear it, it's a snug, flattering fit all day. My only complaint is that if I wear it a few days in a row, the rib knit side panels stretch out a bit, and the fit gets a little loose and a little less flattering. A run through the wash restores the tightness of the knit, but I wish the side panels were more reliably elastic. (I'd also love for there to be a more waterproof/resistant version of this hoodie, so I can wear it outside in the Seattle rainy season more often.)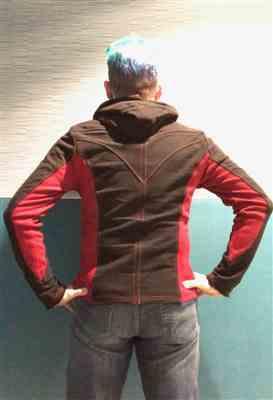 Excellent product and wear
I have been a customer of Volante for at least 5 years now. My sweatshirts are almost exclusively from their line of clothing. It fits my body type well and gives me a unique look and matches my personal aesthetic. These products are very high quality and worth the purchase.