Made from meltblown polypropylene filter material, these filters will fit inside both sizes and all styles of our fabric face masks. Included are adhesive aluminum nose bar⁠s⁠—stick these to the filter before adding it to your mask pocket. Once you have the mask on, shape the nose bar to your nose for a better seal. We recommend using a new filter and nose bar each day.
Available in packs of 10, 20, or 40 filters and nose bars.
Features
Precut filters made from meltblown non-woven polypropylene filter material
Adhesive aluminum nose bars included
See technical properties for filter material in table below:
This material is certified for level 1 ASTM when used in medical grade masks. Since our masks and most hand-made fabric masks are not medical grade, the filter material will not function at any certifiable level. We make no claims about the effectiveness of this filter material in our masks or your masks. Use at your own risk.
Material is not intended for re-use. It may be a mild irritant to the skin, though we haven't experienced it ourselves. Do not ingest. Avoid contact with eyes. Do not store near sources of ignition.
Not eligible for any discounts or promotions.
Customer Reviews
Write a Review
Ask a Question
Filter Reviews:
item
size
materials
work
issue
face
mask
glasses
nose
filters
08/06/2020
Andrew S.
United States
Great. Product.
The packet has what you need to keep clean and healthy while out in the world. Very practical and easily swapped out. The masks they go in are great too! The cloth and sewing are durable so they are easily washable, although to be safe and to ensure the longevity of the masks I'd wash them in an undergarment bag.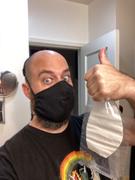 07/29/2020
Lorenzo B.
United States
Good filter - but...
Hard to separate the individual filters w/o damaging them. Also, a mark where the nose bars went would help too.
07/07/2020
Elizabeth W.
United States
10 mask deal
My family was very happy to receive the large size masks. They are terrific and do well made
06/21/2020
Elizabeth K.
United States
Convenient and easy to use
Glad to have the option of extra filter protection for my fabric mask. The filters are easy to install and it's nice having an adjustable nose bar.
06/19/2020
Peregrine H.
United States
Good filters
Nice stack of filters. I don't have any good way to test how good their filtering capabilities are, but I like how they're all just a little bit stuck to each other, so o can move around the stack as a single item, not as a stack of many items.