Meltblown Polypropylene Filter Material [BY THE YARD]
Note this is YARDAGE. Pre-cut filters for our masks are available here.

By our calculation, 1 yard can make approximately 60+ mask filters depending on size and shape. See our filter pattern here.
Purchase yardage of non-woven meltblown polypropylene filter material by the yard, 3 yards, or 6 yards. Contact us for larger quantities, we're happy to accommodate your orders! Use this material to make disposable filters for your own fabric face masks.
If you order 6 or more yards, your yardage will be cut in 3 yard increments.
Features
Meltblown non-woven polypropylene filter material

64" roll width
See technical properties in table below:
This material is certified for level 1 ASTM when used in medical grade masks. Since our masks and most hand-made fabric masks are not medical grade, the filter material will not function at any certifiable level. We make no claims about the effectiveness of this filter material in our masks or your masks. Use at your own risk.
Material is not intended for re-use, so make sure your mask design allows for easy access to change the filter. It may be a mild irritant to the skin, though we haven't experienced it ourselves. Best suited in mask designs when placed beneath another layer of material. Do not ingest. Avoid contact with eyes. Do not store near sources of ignition.
Not eligible for any discounts or promotions.
Customer Reviews
Write a Review
Ask a Question
Filter Reviews:
material
difference
pictures
Shipping
mask
mask filters
straps
ninja
cloth masks
purpose
08/20/2020
Tim L.
United States
Dirty filter material
The filter material came in two totally sealed clear plastic bags. I can see there was a dark colored debris on the edges of the filter material in both packages. The debris was up to approximately 1/4" wide. Since I had planned to use this material for mask filters, this made me question the quality control of the material as I do not want to be breathing this in. I took pictures of the unopened packages.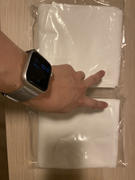 08/24/2020
Volante Design
Hi Tim, Thanks for letting us know about this. The selvage edges of the fabric have a tendency to get pieces of cardboard fiber embedded along the edges as the fabric comes off the roll from the manufacturer, partially due to the static charge of the fabric. I completely understand your concerns though! Would you like us to send you new filter material or issue you a refund?
07/29/2020
David V.
United States
Filter-Material for Mask-Insert
We purchased this material to insert into our cloth masks; so far, it seems to work well for its intended purpose. Ordering was easy -- we were not forced to create an account (at this point, unless I already have an account with the particular outlet, I will simply empty the cart and find another website if I cannot shop as a guest), and shipping was prompt. That's all that really needs to be said.
06/05/2020
Karen F.
United States
Great filter fabric!
With everyone making masks, this was the only source I could find for filter fabric - that didn't make me fear providing my personal info. Order was filled in the time indicated when I ordered and filter fabric is just what I needed. Thanks Volante Design!
05/22/2020
Danielle B.
United States
Very Comfotable
Fit great, look good. The adjustable straps keep the mask in place nicely. Good to wear all day. Thank you for making a stylish functional mask! Love pretending to be a ninja!
05/21/2020
Matthew P.
United States
Amazing
Love the material. Works great and you can definitely tell a difference between the filter and non filter mask.