Men's cut [see the women's cut]
Not sure what size to get? Get a sizing consult here! 
Whether you're a seasoned professional or an amateur slayer, the Son of Sparda coat is an ideal choice for vanquishing nightmares in style. As a nod to the mobility required in the business of demon hunting, zipper cuffs and a sophisticated body design allow for a wide range of movement in the lower body, arms, and wrists. Channel Dante's confidence in this tough, lasting coat that performs as good as it looks. Durable denim fabric and a breathable lining are finished off with reinforced top-stitching to create the signature circular shoulder pauldrons you recognize from Devil May Cry 5. Get yours today, and dare demons to challenge you... if they can keep up.
Features
Durable denim shell
Sizing that looks tailor fitted
Heavy reinforced top-stitching 
Roll-able or fold-able zipper cuffs 
Outer pockets 
Inside pockets 
Breathable moisture wicking lining 
Front 2-way zipper closure
American Made
Dry clean 
Colors
Devil's Fury - Port with black accents and tan thread
Mercenary - Black with port accents and tan thread
Customer Reviews
Write a Review
Ask a Question
Filter Reviews:
sleeves
people
anything
coat
pockets
color
pictures
purchase
heft
length
07/22/2020
Clint S.
United States
Jackpot!
Looks great, fits great, has a lot of functionality. Two internal pockets are great for keeping your wallet and phone safe, external pockets are super deep so you can carry anything else, dual zippers give a lot of cool styling options, easily dressed up or down, nice and heavy for when it's cold out, just overall a fantastic purchase.
04/25/2020
Dennis F.
United States
SSStylish Coat Ever
First and foremost let me just say that I'm absolutely lovin this coat. I've been a fan of Devil May Cry for as long as I can remember. It's always been a dream of mine to cosplay as Dante and it's awesome that you guys have made a coat centered around him. There's so many positives about the coat for one the heft of the coat is nice and the material is really top notch. Originally I wanted only the Devil's Fury colors but now I definitely wanna snag the Mercenary colors next. Thanks a lot you guys you've made this Devil Hunter very happy. JACKPOT!!!!
04/21/2020
David A.
United States
Favorite thing I own.
Fits very well besides sleeves which are a little long which seems to be pretty standard from other reviews I've read about Volante pieces. Definitely not a deal breaker though. I love everything from the look to the weight of the jacket. This was my first purchase and since then have two other items with one more on the way and I love all of them but this jacket stands out as my favorite.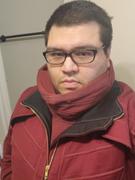 04/06/2020
Derek L.
United States
Everything I wanted!
Comfortable, warm, and fashionable! Cannot wait to show it off more!
MF
01/14/2020
Marvin F.
United States
Great product with a little room for improvment
I was blown away by the quality of the coat. The black color with red accents is gorgeous! It looks way better in person than in the pictures. The fit is great. After wearing the coat for a few days, there are some things you will notice: - people will stare at you all the time - the zipper on the sleeve could use some kind of fabric underneath, it scratches my watch sometimes, which is not fun at all - the coat's practicality suffers from the length, especially if you enter a car and want to close the door (but it looks so cool!) - it is really, really heavy (which I quite like) With a little bit of fabric protection underneath the zipper in the sleeves this coat would be perfect. Aside from the that, the outstanding quality and design does not justify anything less than 5 stars.