Shogun [Designer's Special]
THIS IS A PREORDER PRODUCT AND WILL SHIP BY SEPTEMBER 30. There will be no chance to purchase the Shogun outside of the preorder period, so reserve yours now.
Men's cut
Not sure what size to get? Get a sizing consult here!
Now more than ever, we must approach life decisively with calm collection and powerful precision. For any situation you find yourself presiding over, we present July's Designer's Special: the Shogun. Inspired by modular samurai armor of the 15th and 16th centuries, the Shogun can be worn in four unique looks, allowing you to master all that life throws at you.
Look 1: Modern Moto This streamlined, double breasted motorcycle jacket is made with a high collar and a combination of breathable cotton and heavy duty nylon fabric. Clip your keys to the rings around the bottom hem and slip your phone into your pocket—you're ready to ride!
Look 2: Urban Armor Add the pauldrons with four easy snaps to create bulk and extra protection when you're out and about. Instantly enhancing the silhouette, these shoulder panels create a layered armor look without sacrificing any mobility.  
Look 3: Tactical Carry With four easy snaps, attach two deep cargo pockets for extra storage. Inspired by the kusazuri hanging tassets of historical samurai armor, these removable pockets will let you keep all your futuristic gadgets close at hand. 
Look 4: The General Attach all four tassets, the shoulder pauldrons, and zip the Shogun all the way up for the full effect. Snap the kote-style gauntlets to the cinched position and get ready for battle. Add the Jingasa to complete the look. No one will be able to stand in your way.

About the Designer's Special 
We have been designing for years now and there are always pieces that never get to see the light of day. In our first years it was because we didn't have the capacity to make more than the single sample and now because some of our favorites were just too unique for a full fledged production run. Now David and Willow, along with the whole design team, are happy to finally offer you the Designer's Special, a super limited edition spotlight event, highlighting one piece we've longed to make and never been able to present.
Features
Mixed fabrics with water repellent accents

Double breasted zippers
Removable shoulder pauldrons
Four removable hanging tassets snap on and off rings at the hem
Two outer snap closure pockets on the torso
Two large cargo pockets on the side tassets
One internal pocket
Gauntlet accents have two snap positions--one loose, and one for a cinched sleeve
Snap closure collar
Pairs with the Jingasa
Professional care only

Colors    
Gilded Carbon - Black with gold thread and charcoal and gold accents
Note: Since this is a super limited product, size exchanges will likely not be possible. Order cancellations or returns will be for store credit only.
Customer Reviews
Write a Review
Ask a Question
Filter Reviews:
jacket
design
Quality
pieces
Shogun
products
versatility
things
details
idea
10/21/2020
Estelle H.
United States
The Accesory One Should Have Had Forever
As always, the unopened box from Volante beckons with exciting possibilities. The Shogun is kind of heavier than I expected, but not unreasonably so. The modular aspects are a wonderful idea, allowing a mix and match flexibility for changing the aestheticsc when using the jacket as part one's presentation. Although a masculine cut and design aimed towards men, the Shogun can blend with a feminine aesthetic especially utilized as an accessory rather than the primary focus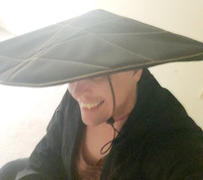 10/20/2020
Austin T.
United States
Absolutely amazing coat
This is probably my favorite coat I've ever owned. It's heavier than it looks and is very comfortable! With multiple ways to wear it with the extra pieces i can change things up when i want. If they ever bring it back in the future i highly recommend it!
10/18/2020
Kolby G.
United States
Gorgeous
I love all the bits and pieces you can change out for this jacket. Besides the extra arm details you can easily go from a mid length jacket to a short jacket
10/16/2020
Karlee
United States
Magnificent Quality
The quality of the jacket is unparalleled. It looks great, it's comfy and it feels like it will last. The design is very unique and I love how modular it is. Mine isn't as fitted as I would like it to be. Looks a bit boxy on me, at least I'm sure I'll be able to wear some layers underneath. I was hoping it would be a slimmer fit like the other jackets, but over all I am happy with it. Looking forward to the next designer special!
10/15/2020
Juan H.
United States
Greatest Jacket Ever!!!!
Just wanted to thank you guys for the amazing products you create. The Shogun is the first product I've gotten from you, and when it arrived it took my breath away! The quality of the material, the stylish design, how comfortable it feels when using it is just *chef's kiss*. I knew I was getting a good jacket from you, but it feels like you heard me and said "Just good? No, we'll give you greatness instead". Keep up the amazing work, guys!